The Challenge Camerounais e.V. is an association that has been pursuing the objective of integrating Cameroonians in Germany and promoting international understanding in the economic, scientific and cultural fields for 30 years. Since then, the CC e.V. has been organising an annual economic, cultural and sporting event during the Whitsun weekend: the "Challenge Camerounais". We are pleased that this event will take place in Marburg this year!
From 27 to 28 May 2023, a varied programme awaits you at the Georg-Gaßmann-Stadion in Marburg, organised by Challenge Camerounais e.V. in partnership with the Sportkreis Marburg-Biedenkopf e.V.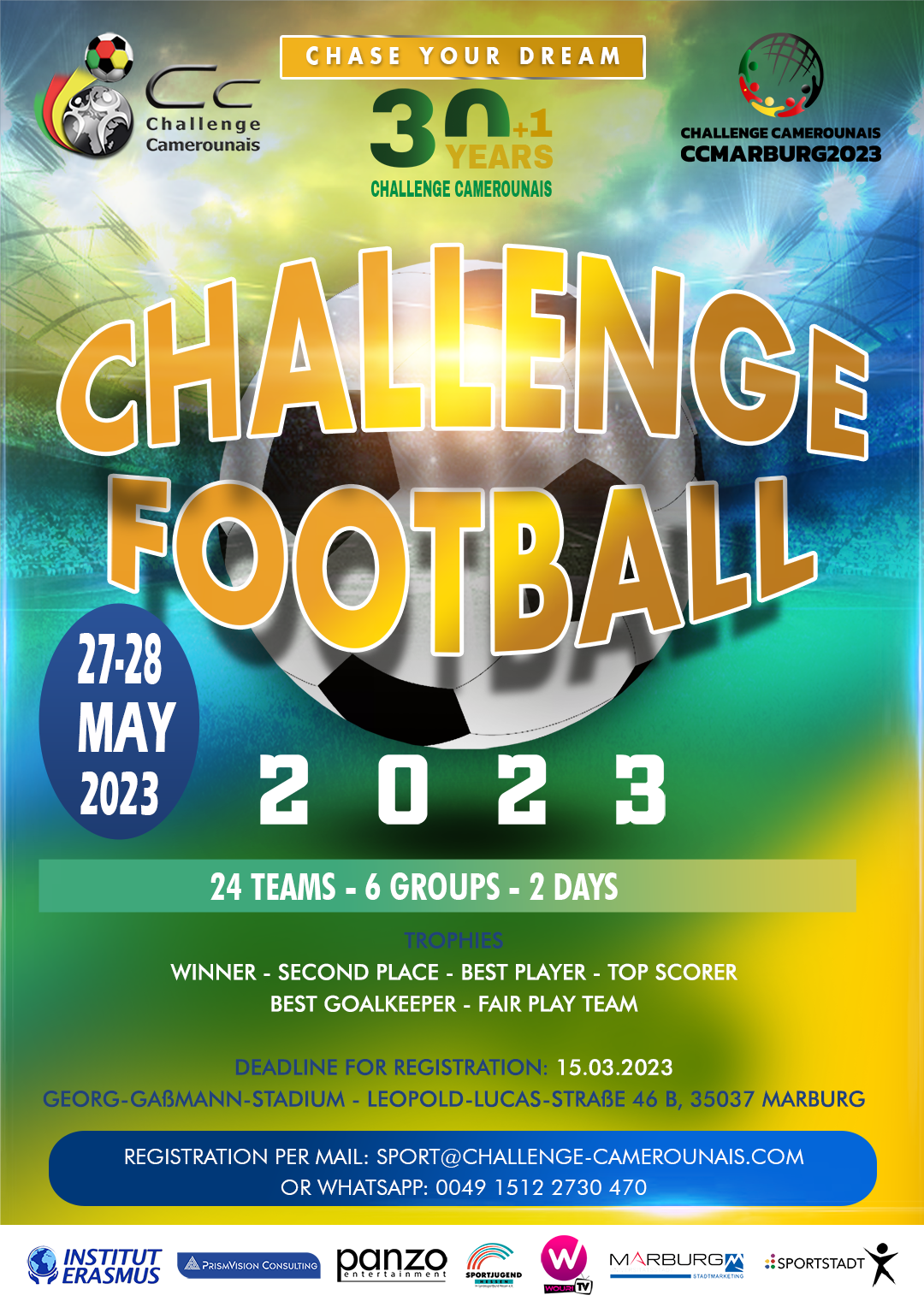 Winning the Challenge Camerounais football tournament remains a major challenge for every football lover in Cameroonian circles in Germany and Central Europe in general. This year, too, the die will be cast to find out who will replace the defending champions Liege or whether Liege will retain their title. There will be 24 teams taking part in this year's edition. The deadline for registration is 15.03.2023.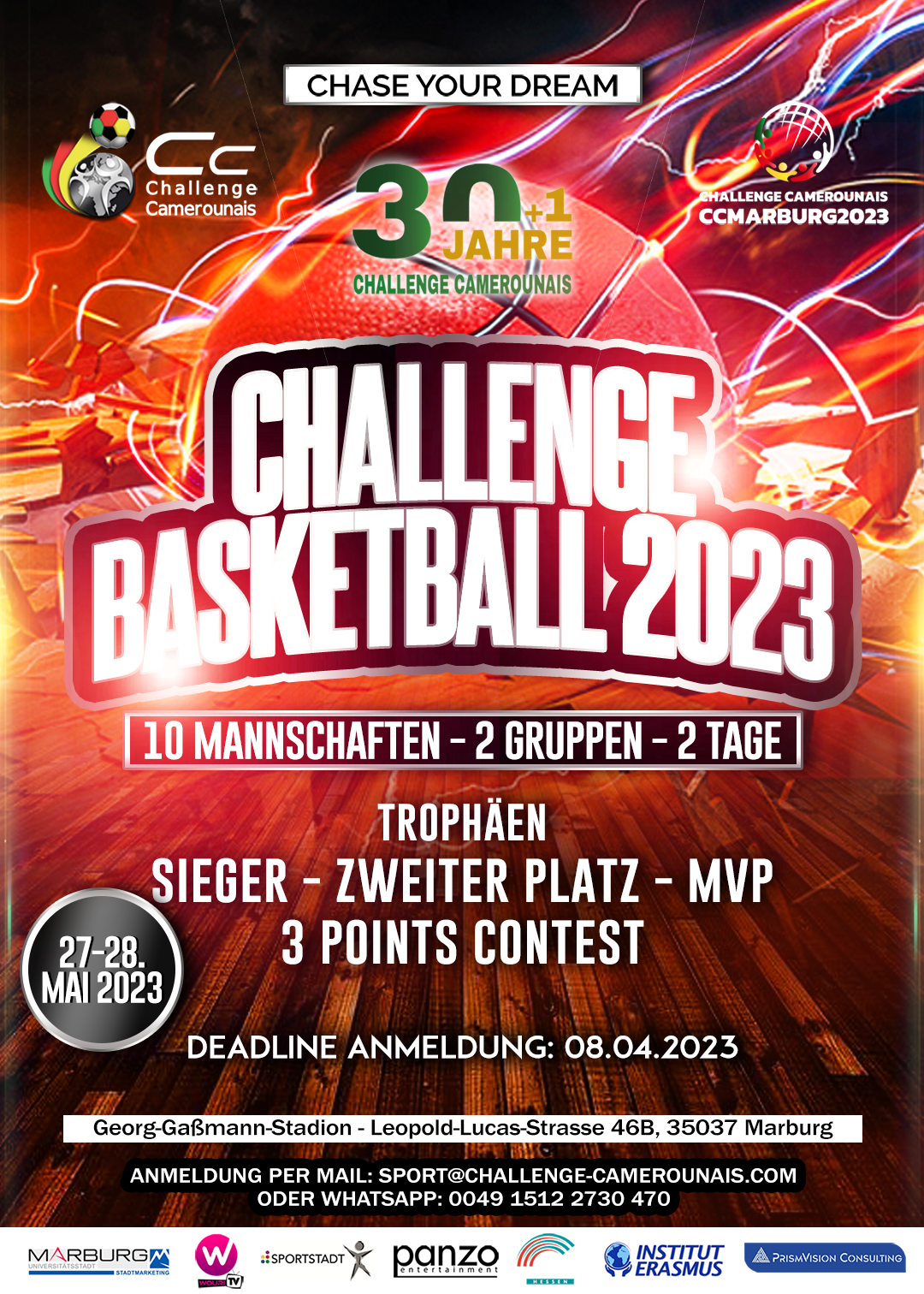 As with football and handball, basketball fans will also get their money's worth at the Challenge Camerounais 2023 in Marburg. Ten teams will be competing. Do you want your city to take part? Then clarify the details of affiliation by 08 April 2023 at the latest and let's travel together to the Challenge in Marburg from 27 to 28 May.
Women's handball is also on the agenda at the Challenge Camerounais from 27 to 28 May in Marburg. Six teams will compete. The registration deadline is 15.05.2023.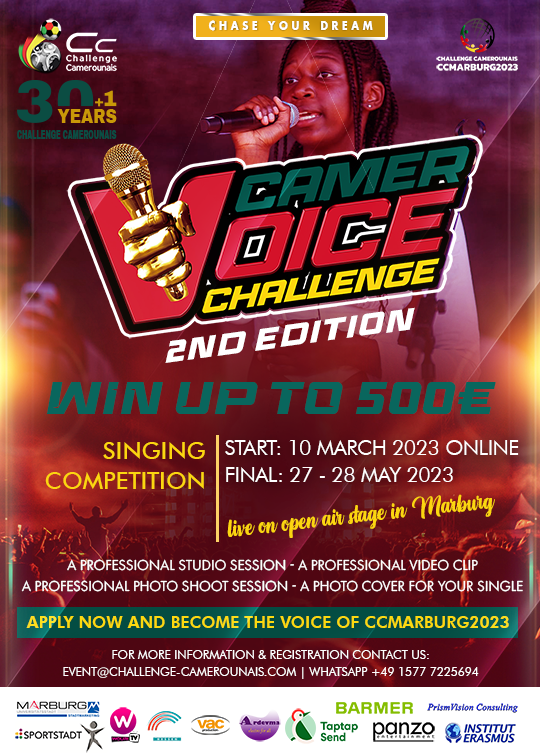 The Camer Voice Challenge, our singing competition, is making a big comeback for Challenge Camerounais 2023. From 10 March to 26 May, you can apply with your video of a maximum of three minutes. The final will take place live at the Open Air Festival on Sunday 28 May in Marburg. There are great prizes to be won. More details on the flyer.
If there is one event not to be missed at Challenge Camerounais, it is the Business and Social Forum (BSF), the meeting place for investors, entrepreneurs and lovers of African entrepreneurship.
This year, the BSF will have two main focuses: a keynote address and series of discussions on the theme "Believe in Africa. Entrepreneurship in Africa" and a workshop on "Entrepreneurship: from idea to reality".
More information will follow. Discover in pictures the Economic and Social Forum of the last editions of Challenge Camerounais.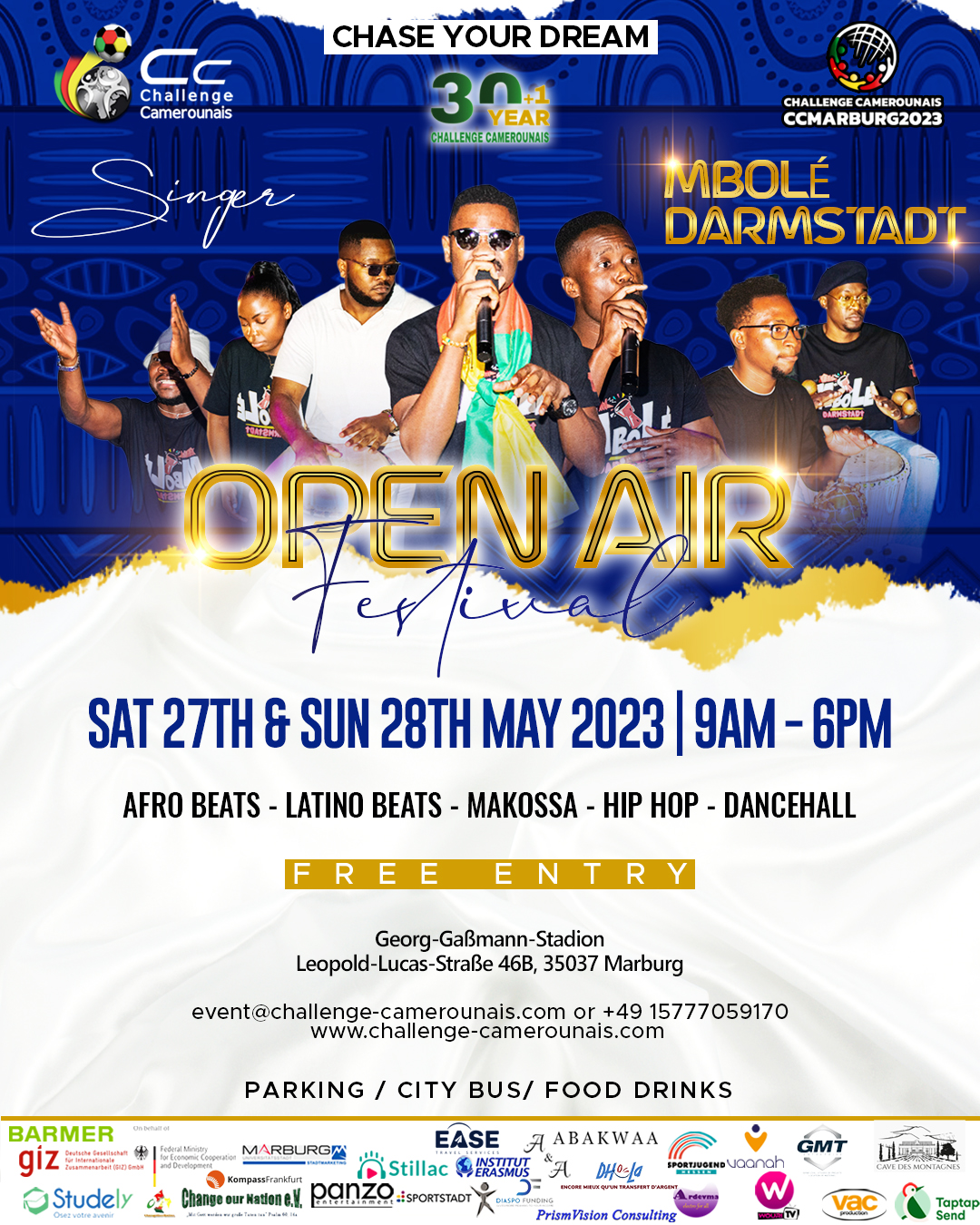 From 27 to 28 May 2023, a varied programme awaits you at the Georg-Gaßmann Stadium in Marburg, organised by Challenge Camerounais e. V. Come and taste our local delicacies in the Challenge Village. Since 1992, the Challenge Camerounais has been the reference framework for meetings and reunions of friends in Germany. What better way to celebrate this reunion than with good food and drinks from home? Come to the 2023 Challenge Village in Marburg and enjoy the best tastes of home at affordable prices for all budgets.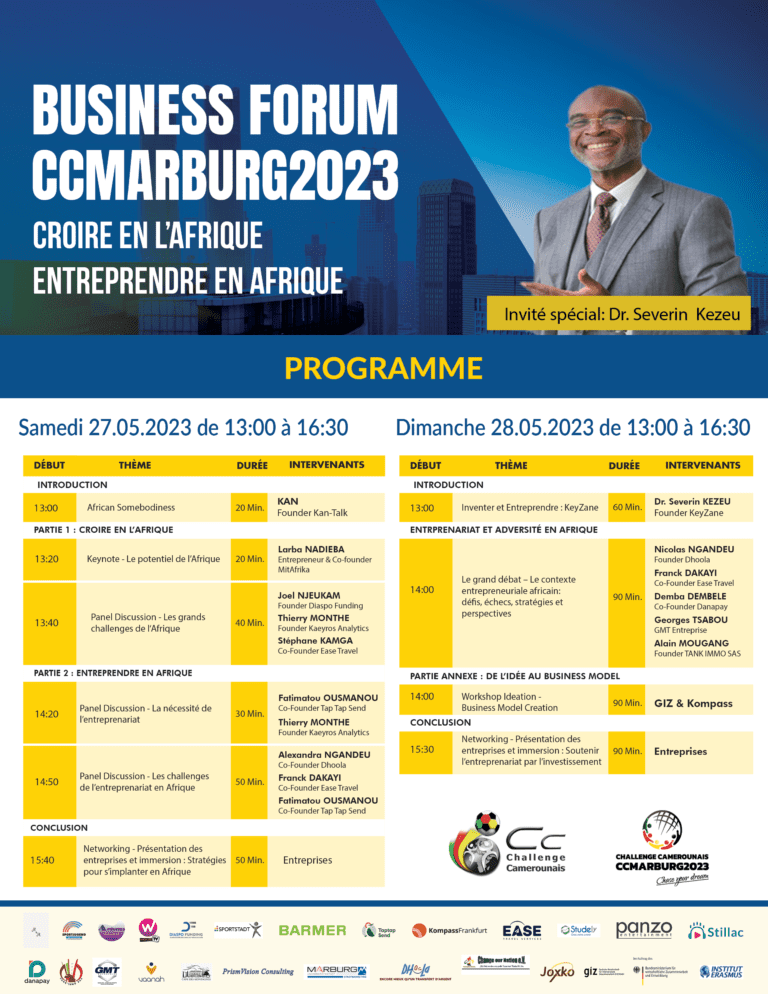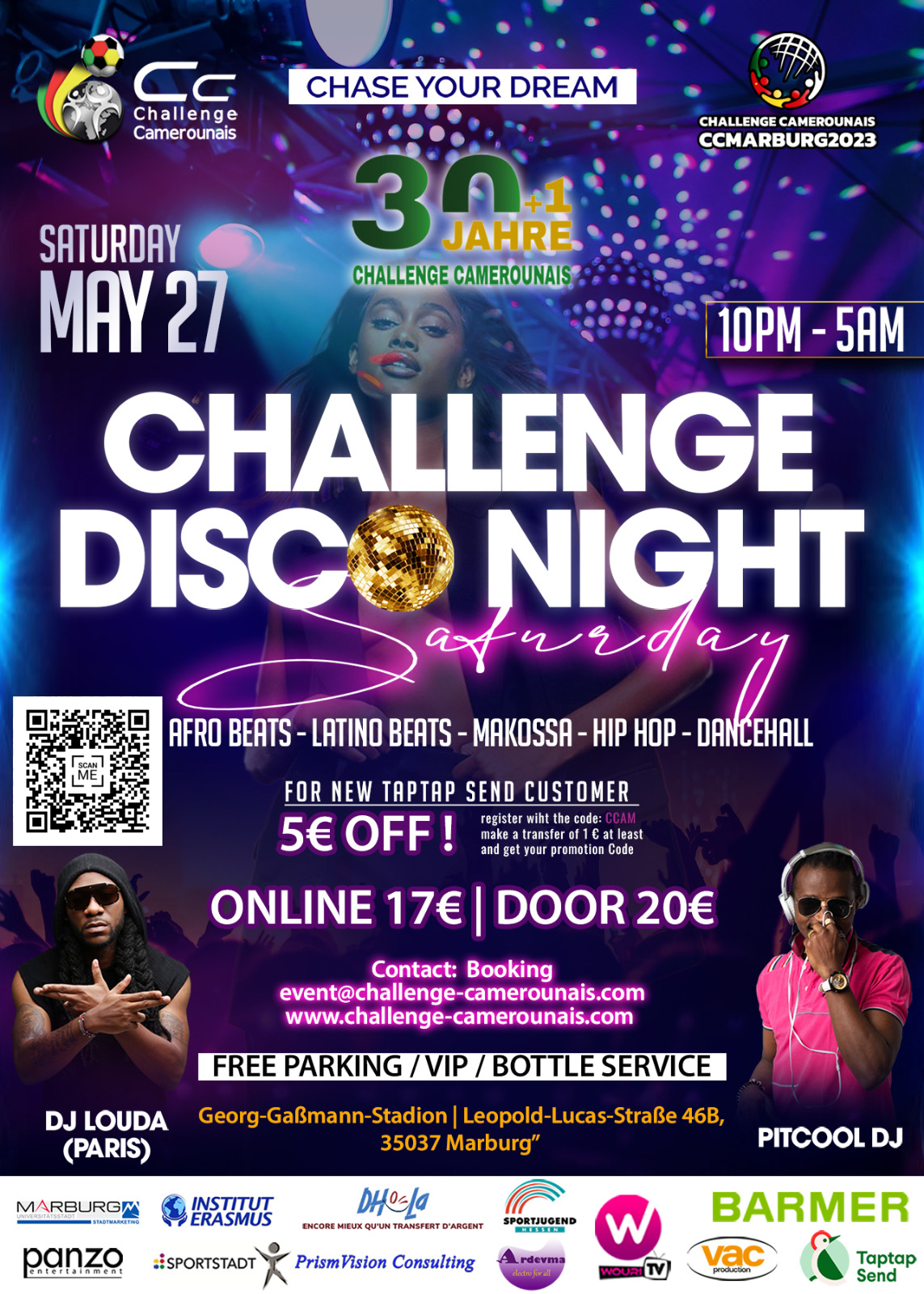 The Challenge Disco Night is one of the great moments of the Challenge Camerounais. To make this great moment immortal, we will repeat it this year with the same DJs. After last year's electrifying show, the award-winning duo DJ Louda (Paris) and DJ Pit Cool (Frankfurt) will be back on the decks on Saturday 27 May 2023 to present another arsenal of beautiful tunes that only they know.
Book Now!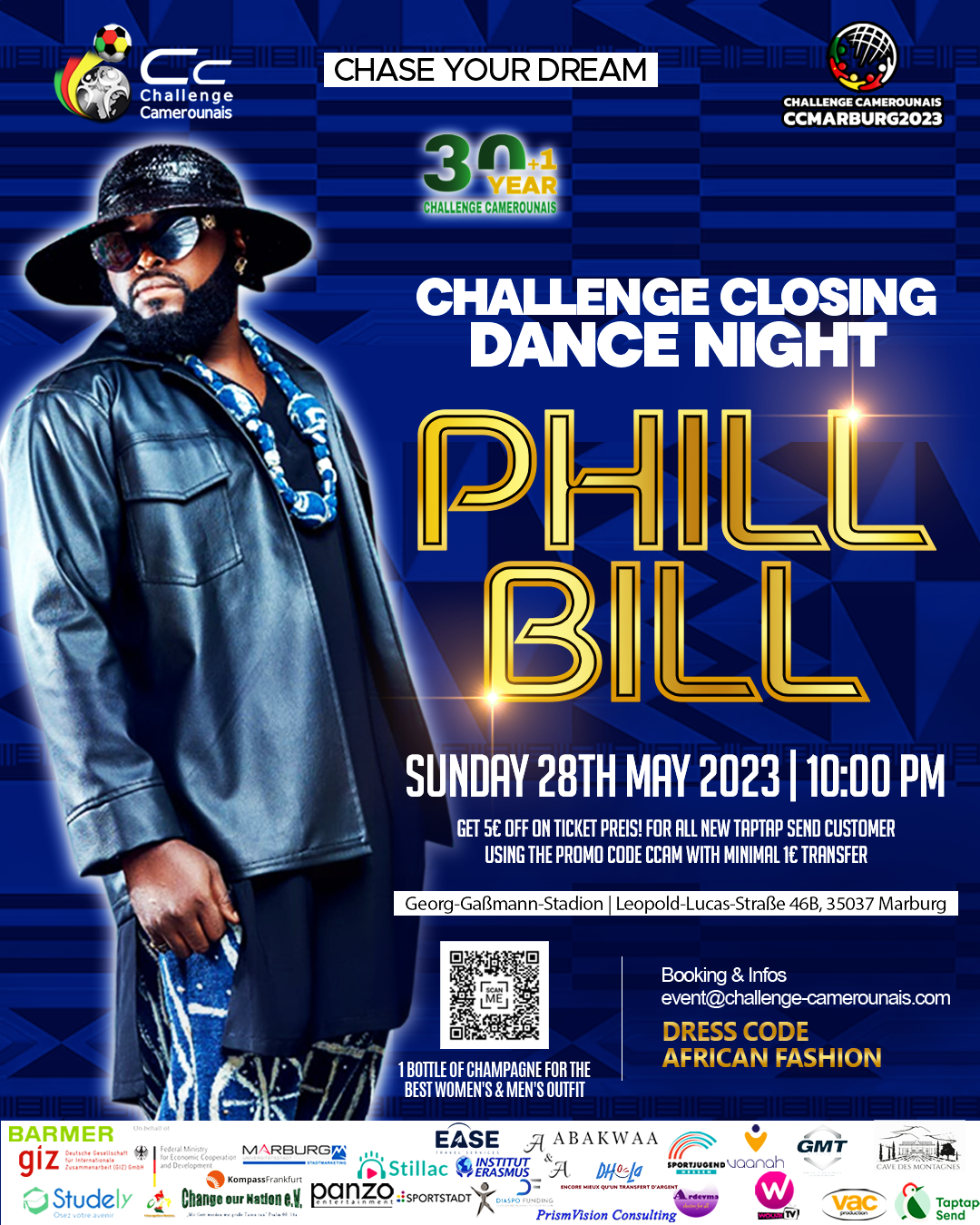 How can you open up to the world and at the same time remain yourself through music? The answer to this question would be worth an Oscar. But Phillbill, whose real name is Diyani Bill Munyenge, has already answered it. If there is one Cameroonian artist who has best succeeded in embracing urban music while remaining rooted in classic Cameroonian rhythms like makossa and assiko, it is Phillbill.
This is why, true to its credo of celebrating Cameroonian culture in all its grandeur on an international scale, Challenge Camerounais is rolling out the red carpet for Phillbill, a bandleader, beatmaker, songwriter, singer, choreographer and producer at this edition.
Phillbill will be the headliner of the Challenge Closing Night on Sunday, 28 May 2023 in the hall of the Georg-Gaßmann Stadium in Marburg. Make a note of the date!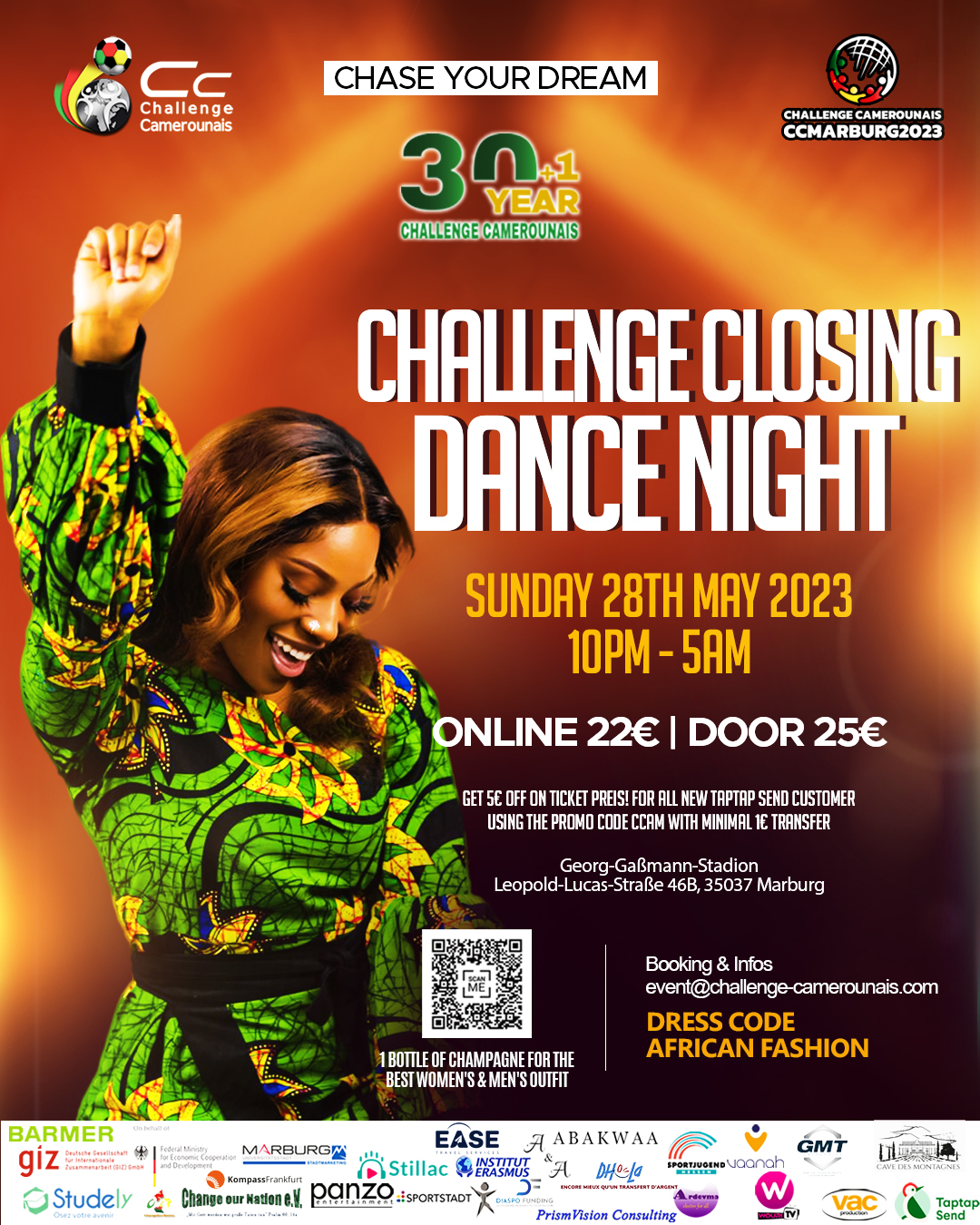 On Sunday 28 May 2023, from 10pm, discover an exclusive live show by Phil Bill and the best sounds from Africa and the world by DJ Louda (Paris) and DJ Air Force (Belgium) on a large dance floor and in the exclusive VIP area. Elegantly decorated, with a sound system worthy of an opera house and a unique atmosphere, the organisers have chosen the hall of the Georg-Gaßmann Stadium in Marburg as the setting for this prestigious evening.
Book now!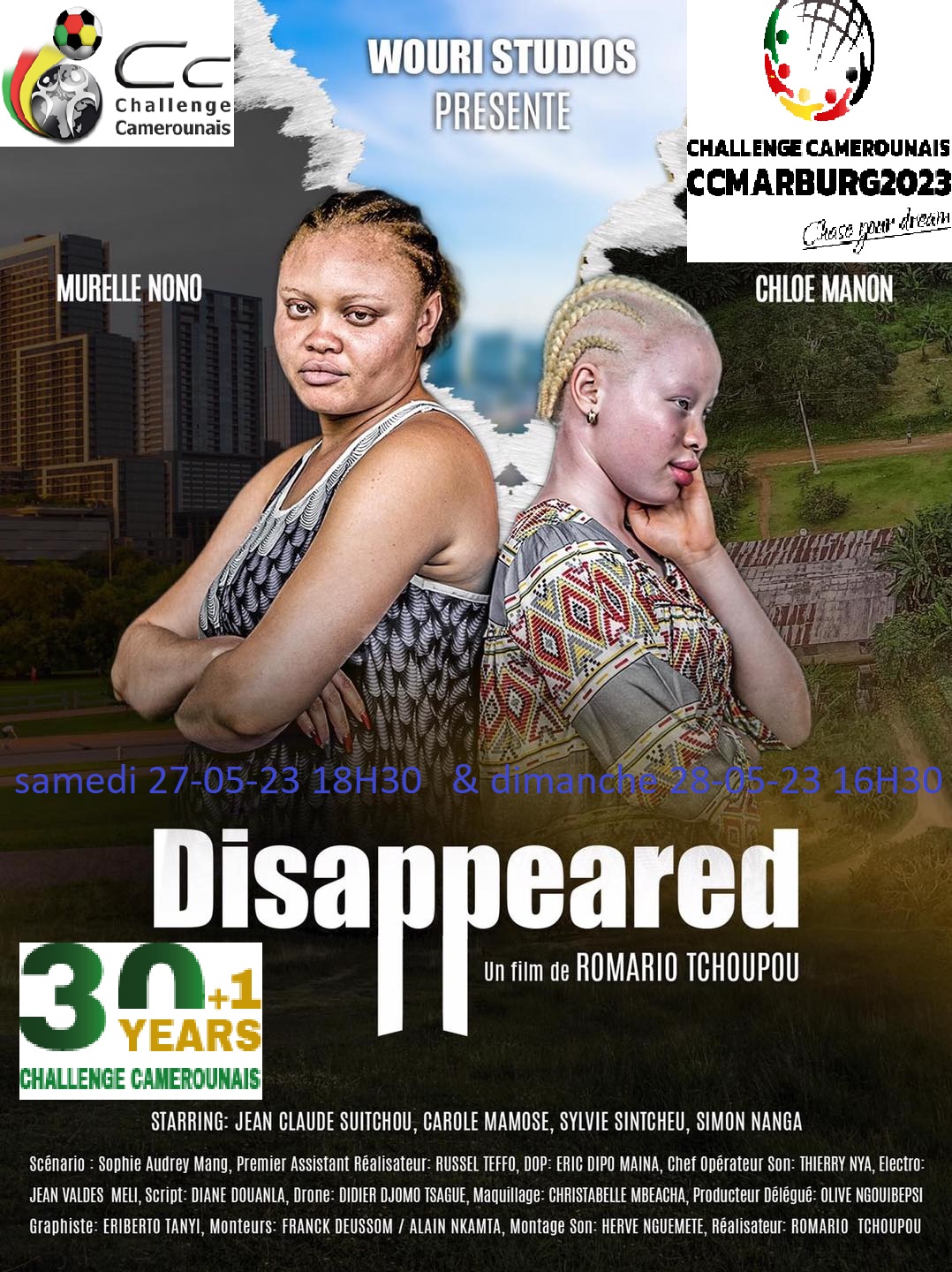 DISAPPEARED
Between taboos, discrimination and customs, albinos too often remain on the fringes of society, relegated to that level by prejudices relayed by others. This feature film, quite singular in the way it conveys its message, brings a different perspective on albinos in particular, and on all discriminated people in general. The main character, Vanessa, an albino living in precarious conditions with her parents, is illustrated by a strong personality, an iron will to pursue her dreams to the detriment of her social condition and the injustices she has suffered. His motto: Resilience. 
                                                                 KANKAN
Yaoundé, Cameroon, November 1996. Dieudonné Afana is a successful Cameroonian comedian known for his sketches as the whimsical and truculent Jean Miché Kankan. Despite his international fame, health problems linked to alcoholism, tensions within his troupe and financial difficulties will seriously jeopardise his future career. His only hope was to organise a show in the town of Nkongsamba. Will he be able to overcome his demons and find success again?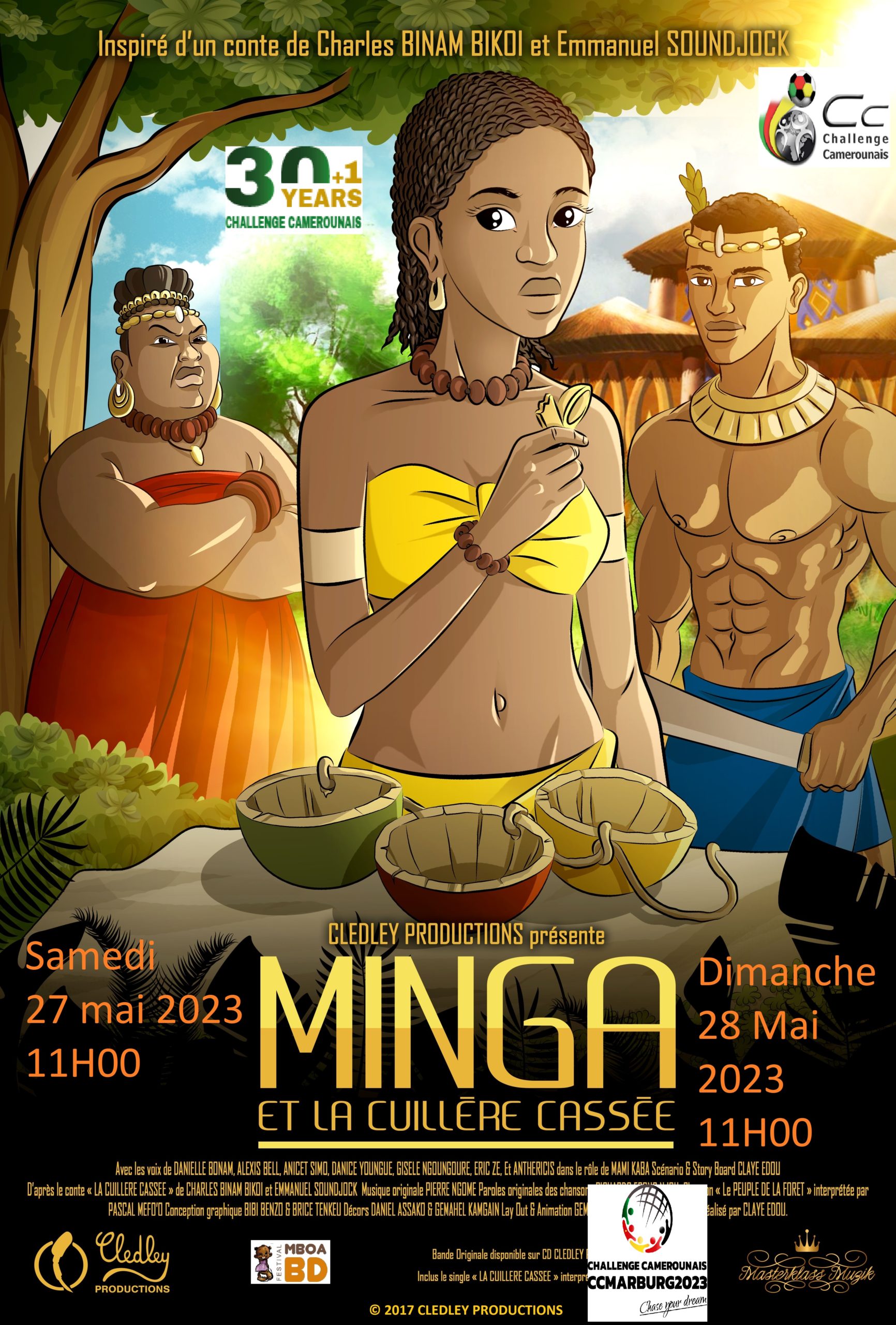 Minga et la cuillère cassée
Minga is a young orphan who lives with her stepmother Mami Kaba. Mami Kaba is a cantankerous woman who does not hesitate to give her a hard time and will throw her out of her house because of a broken spoon during the daily washing up. This is the beginning of a real adventure for our little heroine, punctuated by melodies, friendships, doubts, adventures, and many other surprises!